12 junio, 2013
Emerging Focus: Summer sessions. 26 a 28 de julio de 2013
We are proud to announce the EMERGING FOCUS [SUMMER SESSIONS] July 26-28 2013, will be partnering with photo l.a. & Aesthesia Studios, Los Angeles. This three day event will showcase over 20 seminars on a range of photography topics from the business of photography, fine art and commercial photography, tips and techniques hands on training from leading experts through to photography tours throughout Los Angeles. In addition, amazing evening events, tours of local fine art photography galleries, and more!
Photo Nomad Tours offer a variety of ways to improve your photography skills with the guidance of internationally renowned photographers who have made their homes in these incredible LA neighborhoods. During these unique expeditions you'll learn tips and techniques while exploring picturesque locations. All our photography programs are designed for professionals, and advance amateurs of all levels who are interested in improving their skills while exploring Los Angeles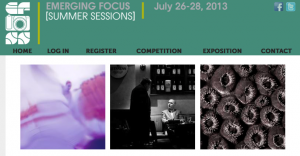 Comentarios desactivados
Aún no hay comentarios.
RSS feed para los comentarios de esta entrada.
Sorry, comments are closed